Captures network traffic, calculates statistics about usage, and serves reports over HTTP.
Features:
Traffic graphs, reports per host, shows ports for each host.
Embedded web-server with deflate compression.
Asynchronous reverse DNS resolution using a child process.
Small. Portable. Single-threaded. Efficient.
Supports IPv6.
Screen:
[LEFT]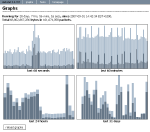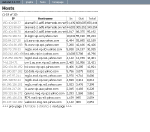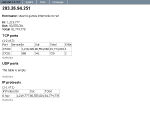 [/LEFT]
graphs hosts ports
Downloads:
darkstat-3.0.718.tar.bz2 (116,044 bytes)
ChangeLog
Quickstart:
Code:
# ./configure
# make
Once built, this is all it takes to get darkstat running:
Although it's possible to configure / complicate things further, once out of the box, darkstat will just work without much trouble on your part.
Slower start:
Portability:
darkstat should build and run on any modern UNIX system that has libpcap. It has been reported to build on:
AIX
FreeBSD, NetBSD, OpenBSD
Linux (Archlinux, Debian, Fedora, Gentoo, OpenSUSE, Ubuntu)
Mac OS X
Solaris
There is an unofficial
Windows port of darkstat.
Source